When a pet goes missing it causes sleepless nights and endless worry for pet owners.
So when Brentknoll Vet client "Diesel" the black Domestic Short haired cat didn't come home after his usual morning wander, his owner Angus MacKinnon-Little knew he needed to take action to find him.
For two weeks Mr MacKinnon-Little scoured Worcester, focussing on the Northwick area where he lives.
He posted flyers in local shops and schools, set up an on-line campaign and used the BBC and Worcester News to help spread the word. He visited home-owners door to door and was told of several possible sightings but sadly no signs of "Diesel". He began to worry that something awful may have happened to him as he is a usually a creature of habit and staying away from home is very out of character for him.
His next step was to contact a dowser named Joy Lange to help him narrow his search area. (Pendulum dowsing can be used in a variety of different ways including helping you find lost objects or pets.)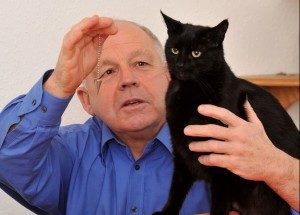 "I telephoned her because I knew she had helped people to find missing things. I sent her a map of the local area and some whiskers from Diesel and she dowsed. She got a response that he was between Ombersley Road and Droitwich Road. On day eight I thought I would see if I could get a response using my pendulum. It was responding to the Ombersley Road side of the area."
Angus was using his pendulum on a regular basis and on Wednesday February 4th he went to the Chasewater area off Northwick Road. "I was getting a strong signal he was in this area."
Angus went out that evening to the area that his pendulum was indicating and within an hour he was reunited with Diesel, who had gone into the car park of retirement apartments in Eastbank Drive.
"Diesel" came to visit Vet Dave Fisher at Brentknoll Vets and although he had lost a significant amount of weight, he was in fairly good health. Now safely home he will be staying home for several weeks to recover.
Thankfully "Diesel" is micro chipped so if he had been picked up by anyone he would have been reunited by scanning the chip and obtaining his owner's registered contact details.
Diesel the missing cat found safely, Brentknoll Vets, Worcester