Weightloss is something we all battle with, but here's one fab pooch who proves it can be done... Here is "Patch's" weight loss story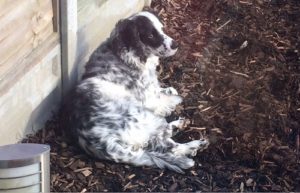 Patch is a 6 year old cocker spaniel who has always been rather lazy. When he first came to Brentknoll at the beginning of his weight loss journey, he weighed over 21kg, several Kilos heavier than his recommended weight; this was a result of his high fat and high calorie diet. He also enjoyed a Pedigree Dentastick each evening before bed, those extra calories were taking their tole and his owners decided to make a change.
Patch's owners had been recommended hydrotherapy at Brentknoll and booked him in with Sharon to help him exercise and lose the unwanted Lbs.
Patch was a little nervous upon his first visit and so he was fitted with a special doggy lifejacket to keep himself afloat to allow him to relax. After a short while he loved it! Spending 20 minutes swimming (although he didn't want to get out and would have swam longer) He was given a nice hot shower using specialist doggy shampoo to remove the chlorine and even had blow dry afterwards.
He is now loving his weekly hydrotherapy sessions with Sharon, he has found his rhythm of few laps of the heated pool with a short rest in between. He now swims without a lifejacket and needs no encouragement, he is like a duck to water!
His owners also changed his diet and began a more active lifestyle at home (which he loves) enjoying daily 20 minute walks. They have even cut out the dental sticks and have switched to a more healthy treat of carrots (trust us the dogs love it.)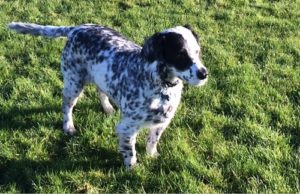 It has only been 1 month since he started his journey and he has already dropped from 21.1kg to 19.2kg, which is getting much closer to his ideal weight of 18kg. There is still a little way to go, but his owners are keen to reach the target weight now that thy have a seen how much livelier and happier he is.
Keep up the good work Patch!
If you think your pets could benefit from Hydrotherapy at Brentknoll Vets, Worcester call 01905 355938