It's good news at Brentknoll! We are pleased to be able to say our CT scanner is now up and running and we have completed our first scan on a real patient
Delivery of the CT scanner in April 2015
Back in April we shared photos on our Facebook page of a Toshiba CT scanner being delivered to the practice.
We have been working with Mount International United Services (MIUS), who have handled the sourcing, refurbishment, delivery and installation of this revolutionary equipment.
After some technical difficulties and issues with installation, we are very pleased to be able to say that the much anticipated CT scanner is now up and running.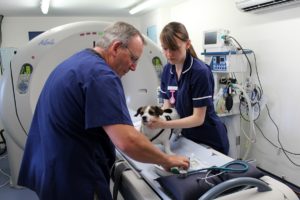 Vet Dave Fisher prepares the patient for her CT scan
In June the team completed their first scan on a Brentknoll patient, little Mia the Jack Russell was one of the first patients to benefit from the CT facilities here at Brentknoll Veterinary Centre.
During the procedure her anesthetic was closely monitored by Vet nurse Hayley, and together with Vet Dave Fisher the necessary body parts were scanned.
Vet nurse Hayley monitoring the patient during her scan at Brentknoll Vets
A CT scan (computed tomography scan) uses X-rays to produce images of a patient's body. But unlike a traditional two-dimensional X-rays, CT scans create incredibly detailed cross-sectional images (slices) by rotating around the body inside the gantry, which is the machine's large doughnut-shaped opening. A CT scanner is also advantageous because it can display a combination of soft tissue, bones and blood vessels in a single image.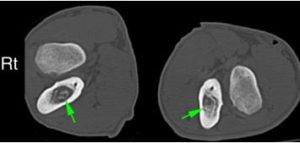 CT scan image displaying soft tissue and bones
The time Mia was under anesthetic was much less than if she were scanned in many other scanners, thanks to the high spec of our 64 slice scanner, which takes 64 images (slices) per rotation of the gantry.
The images were interpreted by CT specialists and a detailed report returned to the practice, within only 24 - 48 hours.
We shall soon be holding an official opening of the CT department so keep your eyes peeled for more news....
CT scanning at Brentknoll Veterinary Centre in Worcester