It's not everyday that we scan such old patients in our CT scanner; but when the One Show call and need your help, who are we to say no
We were lucky enough to be part of an exciting story line, when the One Show needed help to find out the truth behind a dinosaur fossil.
Dave Fisher assisting with the CT scan
Art historian and presenter of the BBCs Fake or Fortune Philip Mould, visited the practice along with palaeontologist Dean Lomax, to take advantage of the facilities available in our CT department. Philip and Dean were trying to determine the true identity of the fossil they were examining, with many historic fossils turning out to be fakes or manipulated replicas, it was important to try and find out what lay beneath the layers of plaster housing the fossil.
The Ichthyosaur, or 'fish lizard' fossil.
Our fossil in question was a 200 million-year-old Ichthyosaurus skeleton, which was unearthed in the Victorian era. Many fossils found during this time were sold to private collectors to be displayed in the homes of the wealthy, however many were incomplete skeletons, so collectors would buy different parts and 'patch' them together to create more complete displays. Because of this collect and patch trend, modern day palaeontologists have their work cut out trying to determine the 'real' specimens from the 'fake.'
This skeleton
was mounted in plaster and possibly other material beneath, so Dave Fisher operated the CT scanner to best capture what lay within the layers; hoping to unearth the truth.
As the images appeared on screen the experts discussed the findings and analysed how the bones lay within the plaster casting. The images were brilliant and allowed us to 'remove' the plaster casing without actually removing it and potentially damaging the fossil inside.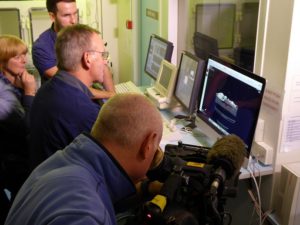 At the end of the day, both experts were happy that the fossil before us was genuine and all parts belonged to the same animal. This was no 'collect and patch' job, meaning this specimen is a very important find, as it is one of only a few examples of a juvenile animal in existence.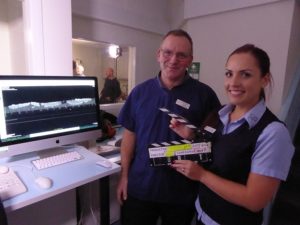 It was an exciting experience for the practice, seeing behind the scenes of a professional TV filming day. Jenni Layton who handles the practice marketing was on hand to film the filming and even got a cheeky snap with the production crews clapperboard.
Brentknoll Vets work with The BBC's One Show to CT Scan Fossil