Remember the popular 90s film Beethoven? Well we were lucky enough to have 11 St Bernard puppies in for heart screening and the fun certainly followed...
The St Bernard is one of the largest breeds, mostly recognised for their part in the popular film Beethoven. Due to their extreamly large size (65-120 kg and measuring 70-90 cm,) you don't tend to see too many of then around as this gentle giant isn't for everyone.
About the Breed

The average lifespan for a St Bernard is 8-10 years, however this can be affected and sadly may be greatly reduced if the dog suffers from a pre-disposed breed health problem.
Wendy and Abi with 12 week old puppy
Like all dog breeds, the St Bernard is prone to a variety of health problems. Their fast growth rate and heavy weight can lead to deterioration of the bones and like many giant breeds, are affected by hip and/or elbow dysplasia as well as mobility related conditions like Osteoarthritis. Many St Bernard's also suffer from an eye disorder called entropion, meaning the eyelid turns in or outwards, which often requires surgery to resolve it.
Health Screening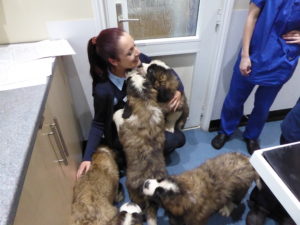 Luckily our receptionists don't mind dog hair
Our puppies can to have their hearts checked by Cardiologist Dave Fisher, as St Bernard's are also prone to a heart condition called dilated cardiomyopathy (DCM). DCM is a condition affecting the heart's ability to pump blood; it's unable to pump blood like a normal heart, because the left ventricle is enlarged and weakened.
The Kennel Club seeks to promote healthy litters and breeding aimed at producing healthy puppies. In order to do this, breeders can participate in Kennel Club certified health screening for a variety of conditions.
Wriggly puppies aren't the easiest to examine
Dave Fisher is a recognised cardiologist by The Veterinary Cardiovascular Society (VCS) and holder of an RCVS Advanced Practitioner in small animal cardiology and small animal medicine.
Our puppies each had their hearts checked and listened to with a stethoscope (auscultation) during their consultation, the vet listens for any cardiac abnormality. If there is an abnormality the vet will be able to detect a heart murmur, which means an abnormal rhythm. The task is then to determine the reason for the murmur and may require further investigations like a Doppler heart scan (ultrasound.)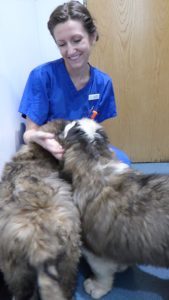 Nurse Laura keeps the puppies entertained
Our Puppies
Luckily our pup's breeder understands the importance of breeding from healthy parents, so before they were mated both parents received heart checks themselves. We're pleased to report that all of our litter all got a clean bill of health from Dave, no signs of any murmurs and all appear to have healthy hearts.
We'd advise anyone thinking of breeding from their family pets to speak to the vet about the health screening available for your particular breed.
Heart testing Beethoven's puppies at Brentknoll Vets in Worcester