Murphy the Labrador suffers from several medical conditions affecting his mobility; 1.) Osteoarthritis – A very common problem in small animals, which causes long term degeneration of joints. The symptoms are stiffness, lameness and pain.
2.) Cervical Spondylosis – Degeneration of the cervical spine, the cartilage and bones of the neck. The symptoms are neck pain, neck stiffness, weakness, and reduced mobility.
Murphy began treatment at Brentknoll due to lameness in his right shoulder and after X-rays it was confirmed that he had osteoarthritis in both shoulders.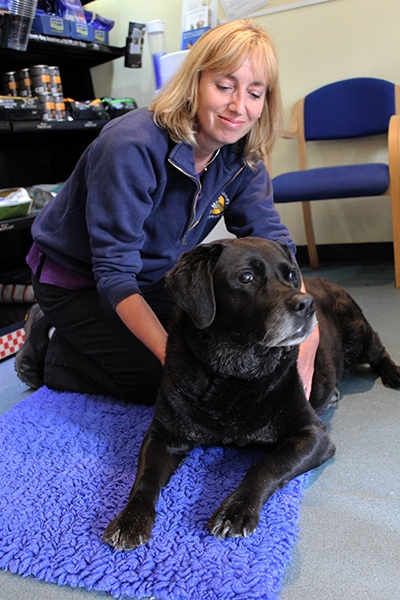 He was also uncomfortable in his lumbar spine possibly aggravated by putting more weight into his back to take the pain off his shoulder. The aim was to make Murphy more comfortable in his right shoulder but at the same time help all the compensatory problems that tend to develop.
We started with adjustments to his spine to correct his spinal and pelvic alignment. This was followed up with gentle soft tissue work into his spinal muscles. The same approach was taken in his shoulder and included gentle mobilising of the shoulder joint. Murphy was very tender though so we applied some low level laser therapy which helped the healing process and encouraged the reduction of inflammation around his shoulder and other joints. This was a great treatment to use as it was tolerated well and moved him onto a stage that we could start some hydro.
Murphy is a great fan of water and the warmth from the pool helped relax his muscles, relieve stiffness and pain. He wore a buoyancy aid and got into the pool with assistance. He was calm and relaxed and happy to retrieve his favourite toy.
We used a combined approach of a swim first followed by manipulation and low level laser therapy. The aim was to encourage mobility and fitness but to maintain his alignment whilst developing his skills in the pool, Sharon monitored closely to ensure that his spine remained straight and balanced throughout. He occasionally struggled whilst turning to the right so we encouraged him to turn to the left for comfort.
Murphy started treatment on a weekly basis with the intention of gradually reducing the frequency now that he is happier and considerably more comfortable in his shoulder and back.
He has gradually increased his swim time to 15 minutes and has now progressed to swimming several laps of the large pool. His heart and lung fitness is brilliant and it's helping to keep his waistline in check. . Since treatment began he seems stronger and more comfortable on his walks and he has increased muscle tone and strength in his joints. His ROM has increased meaning he's less stiff and in less pain. He is mentally stimulated whilst swimming, receives safe and controlled exercise to prevent further injury.
His owner's dedication means that we are able to maintain the work done as they work tirelessly at home to make sure that he has the appropriate exercise and adapts to certain lifestyle requirements.
The aim now is to increase the mobility in his shoulder with more exercises ,and work for his owners to continue at home.
Hydrotherapy and McTimoney Manipulation, rehabilitation for Arthritis at Brentknoll Vets in Worcester